I love Christmas! Starting in about, oh, July, I quietly sing Christmas songs to myself. When the season comes along, I'm like a little child; I even look forward to the TV weather maps that show Santa's position on Christmas Eve. All this regardless of the fact that I'm, technically, Jewish.
See, my mother's Jewish and my father Methodist. When I was born, they decided not to confuse me and shuttle me between Saturday and Sunday services, so I was raised in a non-denominational way. But we still celebrated Christmas. It's just a cultural thing — my parents were kind enough not to deprive me of the consumerist festival that takes place every winter. Which is cool, 'cause I like things.
Our Christmases were extra-weird, because we haven't had them at home with a nice tall tree and a roaring fire and all that. Up until I was five, we had classic Christmases at my grandparents' ranch, but when my grandpa passed on, my grandma sold the ranch and we began to celebrate Christmas in either my grandma's apartment or in a hotel room in an exotic (well, usually less-than-exotic) vacation destination.
This year: grandma's apartment in Houston. And here's the pictures (we're all dressed up for brunch).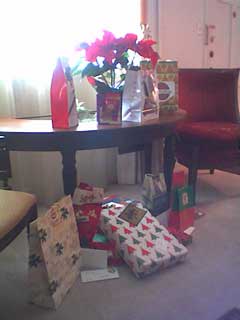 Everyone's loot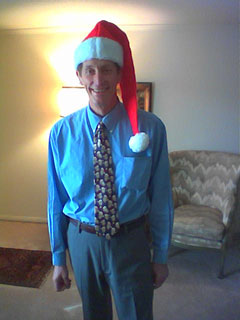 Santa's here to give out gifts!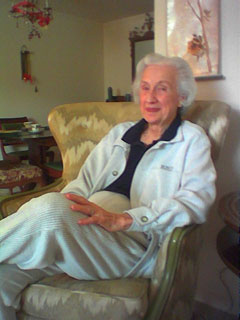 Some people don't like having their pictures taken, I guess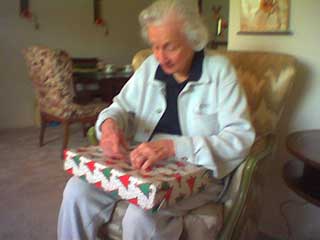 They don't seem to mind when they've got presents, do they?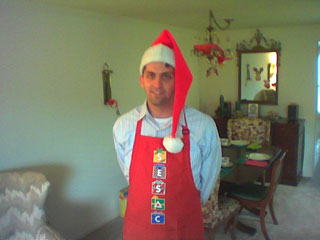 All the presents have been given out, so it must be time for me to cook dinner!
Okay, these pictures aren't too festive. But then, as my Wonderful Girlfriend often points out, my family is way white.
I've taken no pictures of the loot as, well, no loot for the Los-Angeles-residing members of this family; didn't want to try to schlep boxes of stuff through Terrorist Alert Level Orange. And thus I am _muy antojado_. Without widgets and electronica and books and foodstuffs to touch and cherish, there's this doubt in the back of my head that Christmas really came. Can I wait until I return to see my TiVo? Will it really be there when I return? Man, I want *stuff*!