Okay, so I haven't blogged in quite some time. I'm a bad boy. But I've "been busy":http://wadearmstrong.com/archives/000365.html. So here, without further ado, is the kitchen. The part of the house I love and spend lots of time in. Mmmm, I'm hungry already.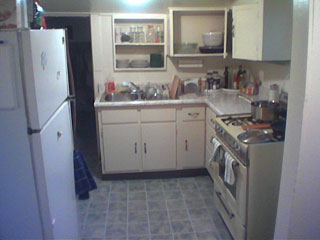 There it is. It's actually bigger than it seems — there's plenty of room for two cutting boards and some veggies in the corner there.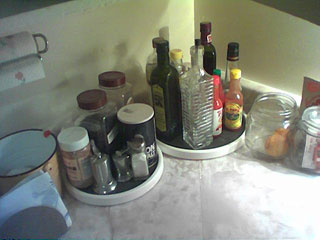 Speaking of the corner, I keep a bunch of stuff there, in containers and lazy susans.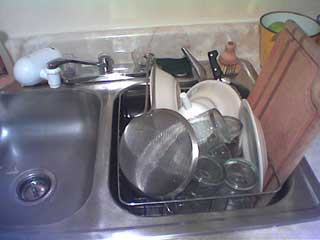 A double sink leaves plenty of room for a drying rack. And, if anybody ever accuses me of not admitting I'm wrong, it's disproven here — several years, a former roommate wanted one of the rotating water filters that fit on the head of the faucet. I feared such a filter would be too bulky and lobbied for one that sat on the counter and attached to the faucet via a hose; it never worked right. This little filter is a dream and cheap too.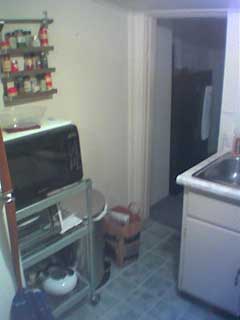 There's room for a cart with microwave, toaster oven, Cuisinart and other equipment on it behind the fridge. Trash goes in the corner behind it. Above the cart is my spice rack, alphabetized, of course: