Ain't that the worst headline ever? Well, it's late and I'm not feeling that original.
I have to admit I came to this film (2 Fast, 2 Furious) expecting the bare minimum of watchabilty. I'd thought the first one was ok but a bit slow, and I was afraid of more of the same. Plus, 2 was lacking Vin Diesel, who'd completely run away with the first movie.
Things didn't start out auspiciously. Now, I live in LA, where every movie opens first, and everyone flocks to the new openings (conversely, not even the best films last more than a few weeks here). It's like the movie market in general, but more so. And showing up for a hot movie on its opening weekend, you need to show early to get in line outside the theater. But when we got there 45 minutes before showtime the line looked like this: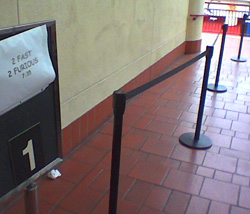 Now that's a bad sign. Can't even open a teen-oriented movie with full lines for one weekend?
Left alone in line while my moviegoing companion got a Wetzel's Pretzel, I started to write this post. Yep, without seeing the movie. See, I used to be a movie reviewer, and this is how all the pros do it. Works for covering hard news too!
I was making up all sorts of jokes to make on the name of the star, the heretofore idenitity-less Paul Walker. Paul Thomas? Paul Michael Gossealer? Yeah, stupid shit like that. But I figured a few crappy puns would be needed to flesh out a bleak review of a disastrous movie.
Five minutes before they let us in, a bunch of extreeeemely well-dressed asian kids started to show up, and, once we got in the theater, a whole stream of russians also dribbled in.
Can a stream dribble? Oh well. The point is, they were all about 19, they all cheered loudest for the Freddy vs. Jason trailer, and I could see all of them driving waaaay too fast in some rice rocket. So that's the demo this thing is drawing, and boy did I feel out of place.
Now, I'd mentioned that I thought the first film had too much talking, too little racing? Well, good signs first off when pretty much all the opening scene was hot girls' asses and some trash talking. And then there was a race straight off that showed you where 2 was coming from — a little less street cred, a little more budget and flash, a lot more fun and a lot more focus on driving fast.
And they followed this part of the show with a bunch of scenes that either involved driving recklessly, hot girls, the ridiculously hot Eva Mendes, trash talking, pranks, or a bit of gunplay. No talking. None at all. Plot? Sure, enough to make each scene fit in its own place. Not too much to get in the way.
Miss Vin Diesel? Not even slightly. With the opportunity to shine, Paul Walker proved that he's a latter-day Keanu with smoother delivery and more boyish charm, and Tyrese was the perfect sidekick. The minimalist script was kicky and snappy and filled with laughs. The pacing was just right, never a slow moment but never losing you with too much at once either.
Oh, and the end was… well, Tyrese said it was Dukes of Hazzard, and Bo and Luke woulda been proud!