Published Jun 11, 2003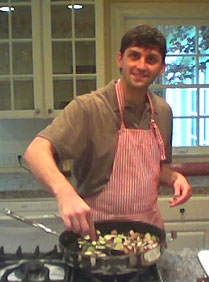 Hello, and welcome to Cooking With Wade!
For those of you who like to prepare a whole week's worth of food in advance, and have every meal ready before it's time to eat it, well, boy are we in agreement. It's the easiest way to eat healthy! Today, for just that purpose, we made: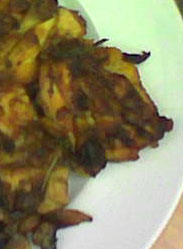 Chicken in Garlic and Shallots. This is a great-looking dish from Alton Brown's cookbook that, sadly, didn't smell as good as he promised. But it does taste pretty great! The garlic and shallots have caramelized into something that tastes like butter even though itt may be a little carburized on the outside, and the chicken is flavorful, if a bit dry (well, everyone's oven isn't the same). As Alton points out, it's a fun dish because it's easy and it uses a different and exciting way of cooking, the slow-fry. Yes, this thing is fried in olive oil in the oven over a period of an hour and a half. Odd but effortless! Although I wonder if a higher-smoke point oil, like grapeseed oil, would cook it up as good while keeping the blackening to a minimum.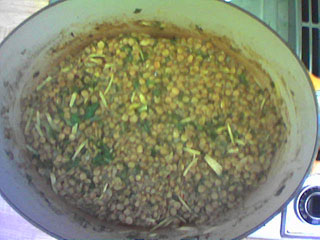 This is a lemony spinach and lentil dish from this great cookbook, Easy Meals One Pot, that I rescued off of the discount rack at Barnes and Noble a few weeks ago. I saw two recipes that looked fun in it so, for $4, I thought I'd take the plunge. And it's delivered! Everything is easy and tasty, it's a great addition. Now, this book sold so poorly that, even though it's published by Barnes and Noble, there's not even a link to it at bn.com. And I think I know why - every recipe has at least one wack ass ingredient in it, the kind you go, like, where the fuck am I supposed to get that? I don't live in little Azerbaijan or Patagoniatown, I live in the middle of Los Angeles.
But hey tasty is as tasty does, and I love this cookbook!
This weekend I had dinner with my parents. My mother planned this side dish with zucchini and mushrooms and shallots but I ended up making it - and it turned out good!
So, chop up about 5 zucchinis and a pack of shiitake mushrooms.
Slice two shallots in half and then slice half-rounds from them.
Heat olive oil in a skillet (I used non-stick but anything would work for this)
When the oil's hot, put in the zucchini and brown them on one side.
Sprinkle on salt and pepper.
Flip the zucchini and add the mushrooms.
Sprinkle on more salt and pepper.
When the zucchini are browned on the other side, reduce the heat to medium-low and add the shallots.
Sweat the shallots 'til they turn transparent.
In retrospect, I might add some chopped parsley at the end. But then the herb garden has a massive parsley surplus and I'm throwing it in everything these days.
Anyway, all that and you end up with this: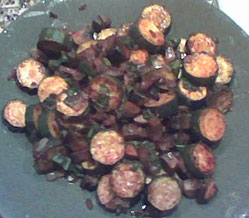 Mmmm. Eat up!