Published Nov 29, 2003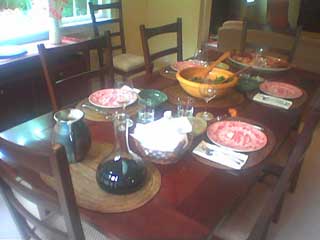 Ahh, Thanksgiving, when others cook so that I may overeat massively. There's no other holiday like it! Of course, everybody does their bit, and, this year, my bit was making green beans and gravy.
Both are an every-year event. The beans are a recipe I inherited from a college friend, are easy to make and taste just a litte out-of-the-ordinary — which they should, since it's actually a basque recipe. The best part about these beans is that they're basically impossible to either overcook or undercook. Here's the recipe:
Lecas
1 lb. fresh green beans, trimmed & cut into 1" lengths
1/4 C olive oil
2 cloves garlic, minced
1 large onion, chopped
2 lbs. chopped tomatoes (peeled is better but unpeeled is fine)
salt, pepper and oregano to taste
Heat the olive oil in a large skillet or dutch oven; sauté the onions and garlic in it until they begin to color. Add the chopped tomatoes, with all their juice, and simmer.
Immerse the beans in heavily-salted boiling water for 5 minutes, then cool under cold running water. Add them to the tomato sauce and add water to barely cover the beans. Add salt and pepper and simmer, covered, for 30 minutes.
Uncover, cook down sauce for 10 minutes, add oregano, stir and serve.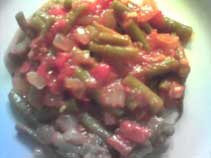 Now, the gravy is also an every-year dish. But it's a different kind of every-year dish — it's the kind of dish that goes wrong, in a different way, every year. This year I'd decided that I'd try this technique I'd read about in some obscure book somewhere: thicken gravy with pureed giblets. I think I learned about this approach sometime during my saucier phase, during which I wanted nothing more than to learn to perfect every sauce I could — but that was before I learned how wonderful a simple roast is (not that a nice pan gravy or jus doesn't help out that roast… mmm…).
Finally, this year, we had a lot of extra giblets: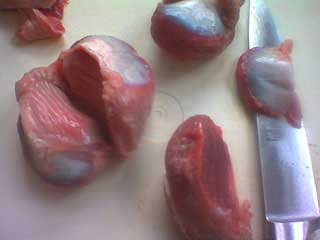 So I stuck them in the Cuisinart with some oil and made a nice fine puree. Then I added that to stock and got… meatballs. Vigorous whisking broke up the meatballs but didn't thicken the stock much; finally I broke down and made a roux, which thickened things right up: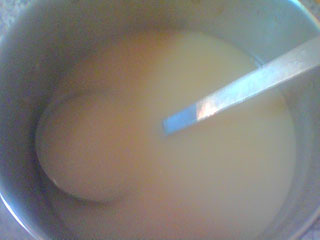 A bit more mundane than I'd hope, but what counts is the eatin'. And eat I did: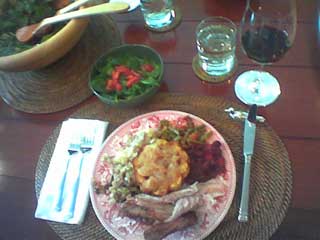 .
When I recover from that, I'll make stock from the turkey carcass and see what fun things I can do with leftovers.