Published Dec 21, 2003
About a month and a half ago, I moved into a new place. It's a little house I found for rent about two miles away from where I used to live. The new neighborhood, to the southeast of the old, is lots of fun and filled with stores and restaurants — photos of that someday, maybe, in the future.
The house doesn't quite fit into the 'hood; all the other buildings are 10-20 unit apartment buildings but, on this plot of land, there's just three small houses. They all seem quite old, with wood paneling on the interior walls and little internal wiring. But I love my new house! It's cozy and has been fun to fix up. And, now that it's fixed up, the pictures will begin.
Since, between the new job and the business school applications, I've got next to no free time, we're going to do this one room at a time. First room: the living room.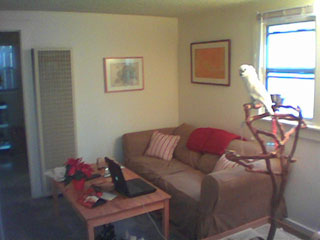 The only real downside here is that the gas heater on the far wall is the only source of heat for the whole place.
I'm not a big home entertaiment center kind of guy, but I've got to have my TV and cable. Best of all, the laptop's got wireless Internet thanks to my AirPort.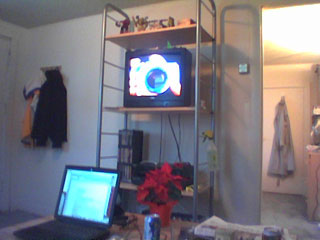 If you're ready to leave already, here's the door: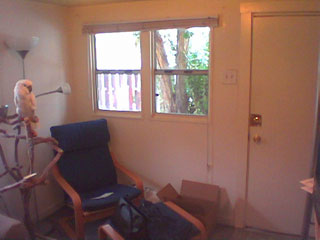 The view out the front window ain't great, but at least I've got a tree: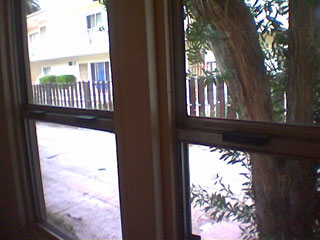 That tree grows like a mother and I have to keep it clipped back!
That's the first room. Gripping, ain't it? More rooms to follow.