I generally prefer not to go out on the weekend, as such activity takes me away from the important things in life, like sitting at home in front of TiVo, eating snack foods, and spoiling the bird. Oh, and doing work. But, somehow, I ended up going out to dinner with friends and, then, to an absolutely hilarious (except for the 15 minutes of methamphetamine-addled anti-Semitism from a large white man) show at the "Comedy Store":http://www.thecomedystore.com/2000/main.htm, featuring Chris Rock.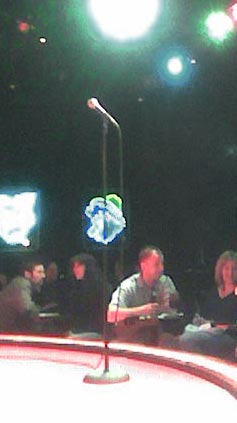 Shortly after being fleeced for $20 for parking at a place slightly up the street, we went to the "Best Of" show, in the Original Room. One two-drink minimum later, we were yukking it up to a diverse set of comedians including:
* A fat former stripper in leopard-print
* A crackeresque Ohioan
* A Palestinian who deserves props for making me laugh with his suicide-bomber jokes
* A metrosexual and his trials when shopping at Ross
* A hot Italian babe with jokes about slutty women
* A hot Jew with jokes about what a slut she was
* A man spouting one-liners that he must have gotten from a 1936 Henny Youngman knock-off book
* A short, Asian, Mad TV alum who was hilarous but who blew his set when he talked about "creaming", rather than "screaming", in the context of being butt-raped
* Said buff, presumably high, anti-Semite
* A Latino who was trying to make Ray Romano jokes to a Comedy Central audience
Oh, and the highlight, Chris Rock: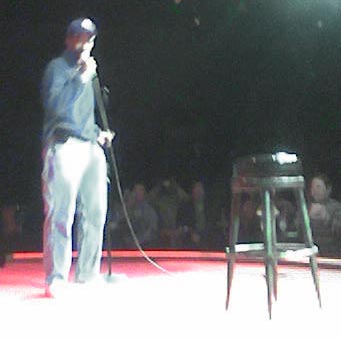 Yes, I promise that's really Chris Rock. Apparently, he's about 4′ 5″ and 120lbs — or at least that's what he looked like on stage. And he was hilarious, everything he was cracked up to be. He tried out all of his Oscar material on us, and it worked! Even though he followed up a couple of awful sets, he really got everyone back into things.
I laughed until my face hurt, and still got home in time to get McDonald's drive-through. Veritably, the perfect evening.