Published Jul 24, 2003
Okay, so first things first. Old people: AOC is just too loud for you. Especially early on before I got used to the noise level, I had to ask my Wonderful Girlfriend to repeat herself.
Now, said Wonderful Girlfriend and I were looking for a place to eat, and one of her cow-orkers recommended French bistro standby Lucques and its new bistro/tapas ofshoot AOC, in the trendy new 3rd Street corridor in West Hollywood. I'm a sucker for good bistro food, and had never been to Lucques, so I was all for it. The Wonderful Girlfriend, in contrast, has quite a thing for tapas, and wanted to try the hip newcomer. We went with her preference and, boy, did we end up doing good!
The space was, as I said, a bit loud, but really the bustle and noise contributed to the environment, which was something between European sidewalk cafe and Röckenwagner. Brightly lit, with adequate space between tables, square shapes everywhere, a color palette of cream and brown and an overall feeling of openness, AOC looks and feels different than most restaurants in this city. I took a few clandestine mobile phone camera shots at, at the entrance and just past: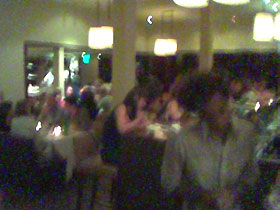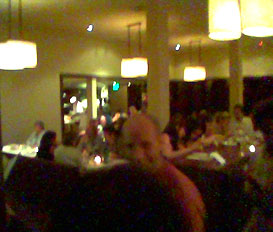 With a wall of wine just as you enter and the wine bar (with bottles attached to taps!) immediately in front of you, AOC tells you what it's about straight off. The wine list is four times as big as the menu, and presented twice as nicely. There's dozens of wines by the glass — red, white, even sparkling — and even a couple of flights for you to sample with your meal.
The menu, although smaller, is no slouch. It's four executive-sized pages, laser printed and bound with a classy but inexpensive metal clip — a great menu design both to project quality and to enable easy updates. The first page is cheeses, the second tapas and salads, the third main meats and fish and the last a selection of veggies. It's apparently traditional to order a bit as you go, enjoying many courses — and the waitstaff is plenty attentive, and the kitchen plenty fast, to let you make things up as you go along. We started with smaller tapas, followed up with salads, then had meats.
The Wonderful Girlfriend chose lomo and chorizo sausages to open, while I had rilletes of pork, with roasted onions and cornichons. Sausages and pates are staples of French bistro food and appetizers, and it's enhartening to see that AOC did quite so well with theirs. Her chorizo were spectacular, and, eaten together, the rilletes and onions were a charming medley of flavors. And, unlike most restaurants in LA, the portions may even have been excessive — for $8, enough to get the flavor and enjoy the texture would have done well, but these tapas were large enough to serve as a main course for many. Suffice it to say that we enjoyed our starters so much that I forgot to take pictures of them.
I did remember to shoot the wines, which were the perfect complement to the meal. With a variety of inexpensive wines by the glass, it's easy to pair dishes and drinks. Some of our wines were truly excellent, including a standout St. Paul Chardonnay from Napa ordered by my Wonderful Girlfriend. I splurged and had two glasses of white and one of red.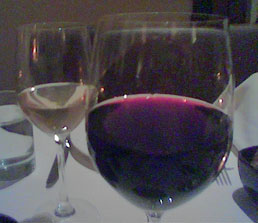 We followed up with salads that may have actually been the highlight of the meal. The Wonderful Girlfriend chose a simpler salad with a buttermilk dressing, while I had a salad of fruit and arugula with peanuts. Both were featured dressings that were as good as the best of Escoffier's sauces; the complexity and depth of flavors was unexpected in such simple dishes. Naturally, I took no pictures of these either; too busy eating wonderful food!
Salads like this are hard to follow up, but, if these were not the best dishes on the menu, then my Wonderful Girlfriend must have selected the one that was: Roasted lamb with an incredible squash puree. The reaction to the lamb was "mmm!" and "wow!" all at once.
I had pork cheeks with a mustard gremolata:

These were lovely, if not spectacular, and entirely different in flavor from the rilletes two courses earlier (indeed, it's a problem with the dribbling-along method of ordering that one spends more time choosing the most attractive of the dishes in one's target course than with pairing dishes between courses).
The main dishes were more of an appropriate size, big enough to be the focus of a meal but small enough that tapas could be ordered both before and after.
We finished with great desserts. The Wonderful Girlfriend asked for "the thing most like bread pudding on the menu" (for bread pudding is her particular thing), and got an italian pudding topped with fruit: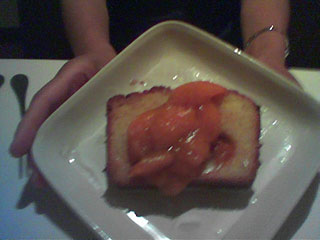 I can't vouch for the quality of this dish, as it was entirely consumed before I had the opportunity to try some.
I, of course, can never pass up a cheese course, and ordered a combination of three cheeses, two goat's milk and one sheep's: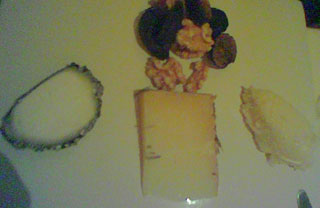 Ordering cheeses is always an adventure, but our knowledgable waiter gave great explanations of the cheeses' flavor and texture, explanations that clearly came from having sampled them. Two of the cheeses were good, and one, a classic goat's cheese with an unexpected moldy (as opposed to charcoaly) rind, was spectacular. Sadly, I am still on my no-cow's-milk diet and couldn't have my favorite New Zealand Maytag Blue cheese, which AOC (like other trendy LA eateries) carries.
My one true disappointment with this course was the selections of wines to pair with desserts — although they had a half dozen ports and another half dozen or more sweet wines, the logical drink at this point is an eau de vie. A Poire William would have completed the evening perfectly, and would have faithfully recreated the selection available at a French cafe or Spanish tapas bar. But I did get a pot of tea brewed from fresh mint leaves — a fine second choice any day.
AOC was a fun new restaurant to try, and a sure addition to my regular rotation. It's open late, and would be a great midnight destination for a group out to classy clubs. It would also be a great location for a party, with a dozen friends passing around various tapas plates and trying different wines. Highly recommended.