Published Dec 6, 2003
I have the tremendously useful ability to eat the same leftovers day after day for nearly an entire week. This is convenient and money-saving, because I can buy food in discount-size quantities, cook a single meal from the food and make that my dinner for four days while freezing leftovers for other days. But there's only so much turkey, stuffing and cranberry sauce I can eat in the days after Thanksgiving, so I'm always looking for ways to use those leftovers in new and tasty ways. This Thanksgiving it was gumbo — I had to make some kind of soup once I managed to secure the turkey carcass.
I first made a stock with the carcass. When I have some good bones and a free afternoon, I love making a stock — the whole apartment smells wonderful and I can fill the freezer with little icecube-sized nuggets of stock that come in handy when making soups or sauces. For my turkey stock, I set the carcass in a stockpot with carrots, celery, onions, garlic and spices, then simmered for 8 hours. I should have skimmed and strained more, for the stock didn't end up very clear, but it had a rich and slightly smoky flavor.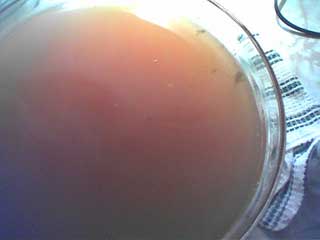 Next step? Make a roux. Flour + olive oil + stir for 30 minutes gave me a great mahogany color and a nutty flavor.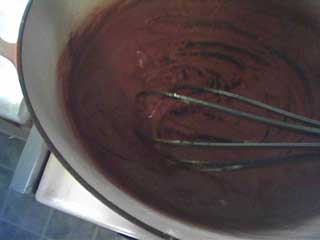 This roux is an effective and simple thickener, and also forms the base of the flavor. More flavor comes from vegetables, especially artichoke hearts, sausage and, of course, turkey. Simmer with stock for a little more than half an hour and the broth thickens right up. The ultimate flavor is nothing short of incredible.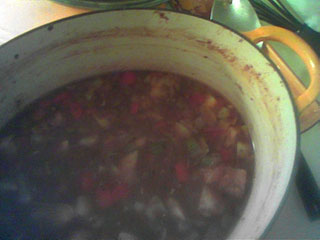 Served over rice and with some hot sauce, boy, this stuff will fill you up.
A product of rural Cajun cuisine, Gumbos are fundamentally thrifty and tasty food. This recipe (link as soon as I can find it in the Los Angeles Times archives) is in my permanent file and will be made again and again — and form a basis for experimentation with various ingredients.