Published Jan 1, 2004
Omelettes are tasty and fun but aren't good to keep in the fridge and reheat. Quiches reheat well and can be filled with different yummy ingredients, but they're a fair bit of work to make. The Italians got it just right — the frittata is easy-to-make and reheats well.
The taste is different from either a quiche or an omelette, it's true; it's a rougher, less luxurious meal. More of a country dish, really. That's not a bad thing, as there's room for every flavor in the kitchen.
Part of what makes frittatas fun is that they're the kind of dish you can make without planning of just whatever ingredients strike your fancy. To make a frittata, beat eggs (a lot of eggs — you have to fill the pan you're using to a substantial depth) with some fillings and spices; I sometimes add some cheese too, which has the nice side effect of making the finished product puff up in a vaguely souffle-like manner. Pour the beaten mixture into a skillet. Cook on top of the stove over medium-high heat until the edges turn a little brown and the eggs are cooked about two-thirds of the way through. Then switch the frittata into the oven and broil to cook the top; the peaks should be a light golden-brown. That's it. No set ratios, no set heats or times, just watch it a little and it'll turn out right.
For my frittata, I used red bell peppers, mushrooms, a hard goat cheese, salt, pepper and tarragon. Everything turned out nicely, although the finished product could have used more salt (I find it hard to guesstimate the right amount of seasonings in egg dishes because the seasonings always float at the top).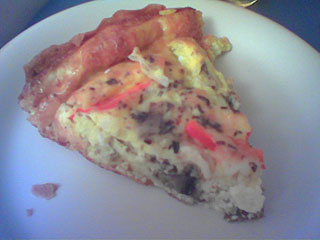 This makes a nice, easy meal with some salad and roasted potatoes!