Published Sep 1, 2004
Some of my best memories from college come from times during which I was horribly overcomitted. Seeking to recapture these memories of my youth, I'm busy being way too busy at Marshall.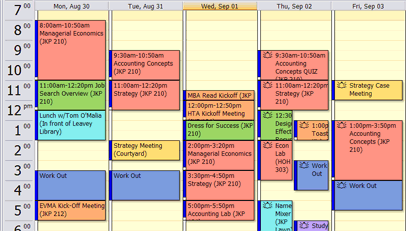 I've got, of course, the requisite 2 hours 40 minutes of class per day, with the requisite 2-3 hours of homework for each hour of class (I'll do the math for you, this adds up to 7 hours of class + homework every day, at a minimum), mixers and lunches with fun people, time, of course, for my beloved Team A-8 The Ocho, and the following activities:
The High-Tech Association, a group that pursues contacts and jobs in high-tech
The Graduate Marketing Association, as above, but for marketing
The Entrepreneur and Venture Management Association, as above, for starting your own company or working in VC

MBA

Read, in which I'll spend an hour a week tutoring kids at a nearby junior high
Trojan Toastmasters, so I can speak English good and stuff
Marshallwear, because all the swag with the Marshall name on it sucks and I would like to actually purchase some branded items at some point in my career here
As Program Director Lida Jennings says, who needs sleep? If only Dean Voight didn't play Principal, roving the halls every morning and berating those who trickle in late, I'd be with her on that statement.