Published Dec 24, 2005
Egg Nog was quite the tradition in my family; I loved, my grandmother loved it, and, well, with those two powerful votes in favor, my parents would drink it too. But, add in a milk allergy and, starting a few years ago, a few glasses poured from a carton from the supermarket became nothing more than a nice memory.
Sure, there were some cartons of "nog" that one could find, from place to place, but this beverage was a horribly inauthentic, and obviously egg-free, replacement for our store-bought tradition. But this year, inspired by Alton Brown, I was determined to bring the tradition back.
There's very little that is objectionable in eggnog — or, at least, objectionable to my allergies — it's just the milk. So, I replaced the usual base with goat's milk. Made a custard, diluted it with milk, mixed in some frothed yolks for thickness and body, spiked it with rum, and let it chill. The result?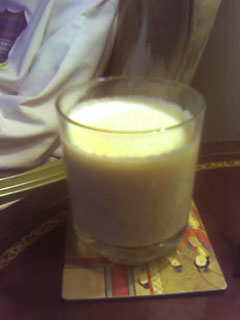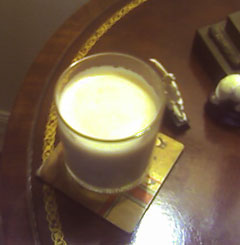 Tasty, filling, maybe a little too strong and a little too watery. But good stuff, a snack and a drink in one. With a few years of refinement, a sure winner. I'll see you next year for the next iteration of a new family tradition. Welcome back egg nog!