Published Jun 28, 2006
The lack of Engrish t-shirts in Vietnam is making it hard for me to find funny blog titles, but I do think I hit some sort of Hanoi trifecta today: I saw Uncle Ho's mausoleum, the Army museum, and had dessert with a hooker. It doesn't get much better than that! Except for — and I will admit this freely, because sometimes giving bad things a name makes them less bad — it is preposterously hot here.
The day started with the traditional breakfast of a bean cake steamed in a banana leaf, and I'll be honest that that put me out of commission for the morning. But then I hopped on an om and zipped over to the west side of town, to check out the obligatory Army museum.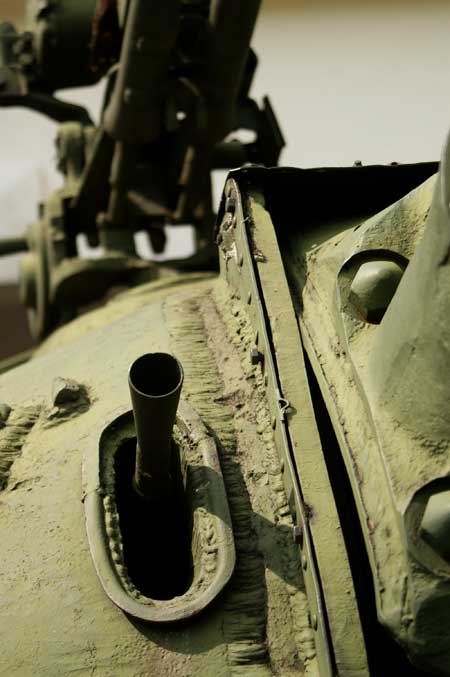 Because of said heat, I've been trying to hit all of the good museums around mid-day — Hanoi's museums are all built in beautiful old French colonial buildings, with thick walls and big, slow-moving ceiling fans, and it's actually pleasant inside. The Army museum is famous, with many exhibits on Vietnam's fight for independence, some fascinating, others absurd in the way that only socialist revolutionary memorabilia can be ("this was so-and-so's belt worn during the patriotic uprising in such-and-such a place in 1932"). The museum culminates with a virtual pyramid made from pieces of downed US fighter planes, an odd presentation for such material.
I also saw the Temple of Literature, a university for the training of Mandarins, established in 1070. The inner courtyard is lined with stelae outlining the exam results for each year: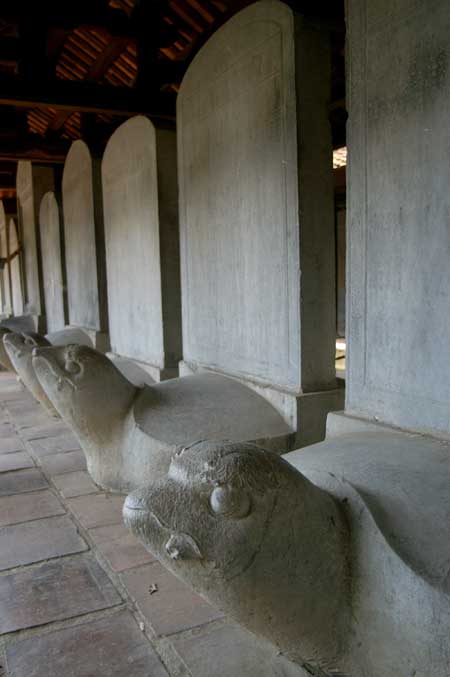 Then it was off to Ho's mausoleum: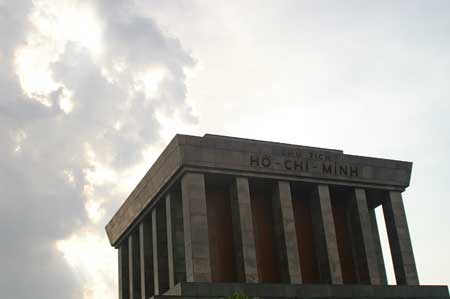 And, further along, to the ancient Tran Quoc temple: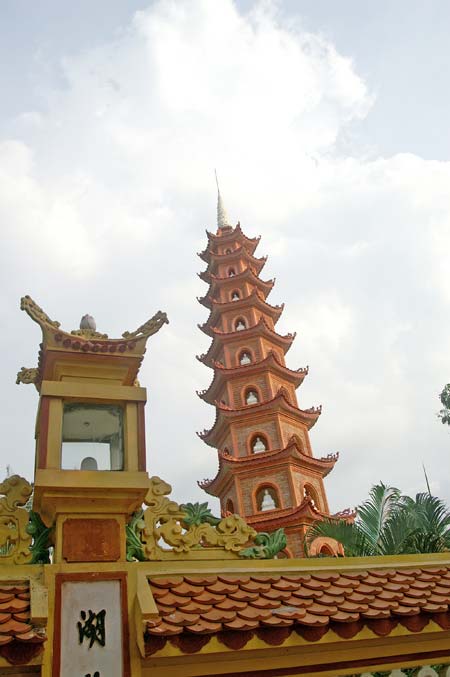 The Vietnamese are very sensible about their Buddhist shrines. Of course they're Communist, which means that, technically, there's no religion, so everyone can wear their shoes inside the shrines, unlike in Thailand, where there's a shoes off-shoes on-shoes off again dance at every major tourist site. But, then, they recognize the role of the religion in the country, so people go to the shrines and pray anyway, just in a very open-minded way. Like everywhere, they smile when they see Westerners, and smile especially large when you smile back.
Then I rode a cyclo home: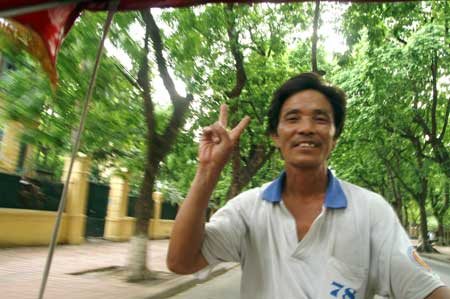 Now, in Hanoi, there's three ways to get around. The cyclo is a pedi-cab: the driver sits on a half-bicycle, with a seat for a passenger bolted to the front and a wheel on each side of the passenger seat. The cyclo is slow but driven conservatively; however, the driver will most likely offer you "good boom-boom one hour" (he will not be upset if you decline). You can also take an om, a scooter — then you sit behind the driver, with no helmet (I've counted only 7 helmets on riders since I got here) and no other protective gear of any sort. Now, traffic is almost totally uncontrolled in Hanoi, so this can seem dangerous, but I've only seen one near miss and no accidents, and really everyone drives at about 30, so it's not too risky. Then there's walking, but that just means that you need to cross the street a bunch of times on your way to your destination, and remember that I mentioned traffic is uncontrolled — there's no crosswalks here. So, pick your poison. If you need some moral support in making that decision, you can always do like me and head to the old French part of town — they've got a good spot there!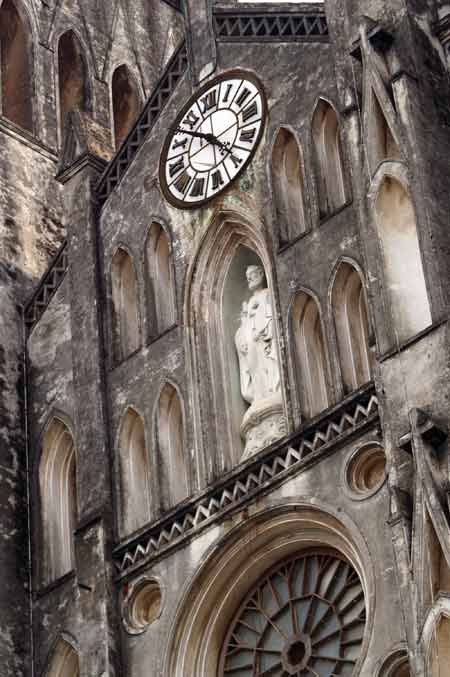 Oh, and as for dessert with the hooker — well, after a nice Pho dinner, I wanted to try this one traditional Vietnamese dessert, it's kind of like boba in sugarcane juice. I bought some from the first vendor I saw, and sat down; turned out the other patron of that fine streetside vendor was a lady of the evening. I enjoyed a little English conversation, but told her I had a woman I loved and was going to marry back home, and then she stopped trying to sell me anything but a massage, Now, after my Thailand experience, I rather would like a massage — and I'm surprised I don't see places offering massages here in Vietnam — but I imagine this lady only was good at massages that had happy endings, and the only ending I want is the kind with a relaxed back. So, no massage, but I was hardly going to leave and give up my dessert, so I enjoyed my bean-flavored cubes and then went on back to my hotel, where I started on this fine blog entry. And that was a day all around Hanoi.