Published Jul 10, 2006
For an introduction to Cambodia, I'm not sure how I could have done better than today. I saw the bad in the city — the Killing Fields, the infamous prison of Tuol Sleng — and paired it with the good — the Royal Palace, atmospheric traditional music at Wat Phnom — finally ending things by eating grilled meat and drinking rice wine with moto drivers on a dirt field in the middle of the city.
First came Wat Phnom, the temple dedicated to the founding of Phnom Penh. I almost wish this site had come last, because, once I worked my way past eyeless and legless beggars, I entered a beautiful temple filled with smoke from joss sticks and incredible xylophone music from a troupe of traditional players.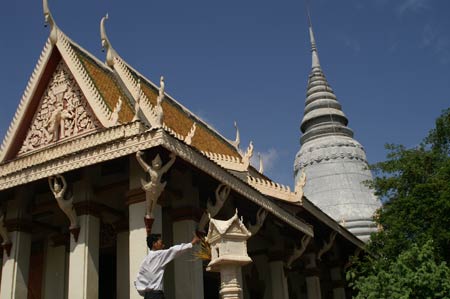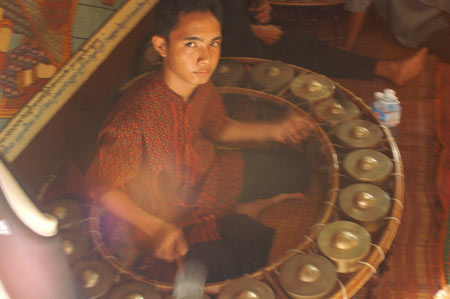 From there the car I rented took me to the surprisingly bucolic Killing Fields of Choeung Ek, a short distance outside the city along busy dirt roads. At the Killing Fields the genocidal Maoist Khmer Rouge disposed of 17,000 of their presumed enemies — principally totally innocent, average Cambodians — over a period of four years. The centerpiece of Choeung Ek is a large glassed-in stupa containing the skulls and other remains of more than 8,000 of these victims (Cambodians believe that, unless dead bodies are properly buried, the souls wander the earth endlessly; placing the remains in a stupa is an attempt to give the souls rest).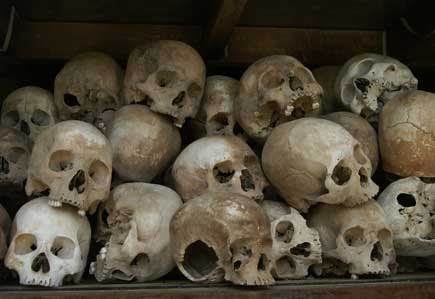 Behind this monument lie the killing fields themselves, beautiful, rolling green open space, criscrossed by small paths — except that each dip in the earth is a mass grave. Today, rice paddies back up directly onto the outer ring of mass graves, and cows sun themselves in the valleys.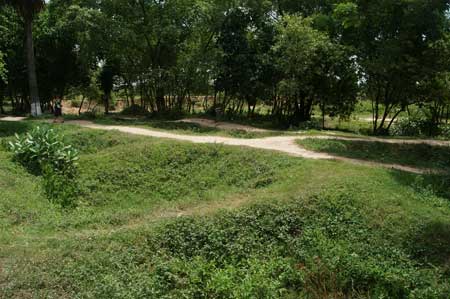 So, this trip not having been depressing enough, I went to see Tuol Sleng prison. Originally a high school, Tuol Sleng was changed into a prison by the Khmer Rouge when they took Phnom Penh in 1975; of the 20,000 prisoners held there, only 7 survived until the liberation of the country by the Vietnamese in 1979. Prisoners inside were tortured on bare metal beds; today, the deteriorating, dull campus is principally occupied by sparrows and by bats, who hang upside-down from the roofs of the deteriorating stairways and intimidate visitors with high-pitched squeeks as said locals and tourists climb to the third floor to see photo exhibitions on surviving Khmer Rouge.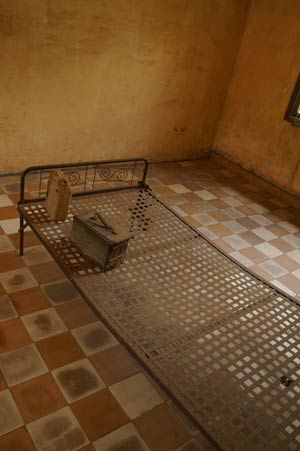 Until 1979, the US supported enemies of the Khmer Rouge; but, after that year, when Vietnam invaded and installed a puppet government run by current Cambodian PM Hun Sen, we switched our support to a broad set of opposition armies dominated by the Khmer Rouge. Aid, principally from the US and Thailand, kept the Khmer Rouge going for nearly another twenty years, time they spent commiting more atrocities in the deep junglles of Cambodia that they still controlled. In the name of fighting communism and isolating Vietnam, we chose to sponsor an organization that we knew to have committed genocide (they killed between two and three million Cambodians, out of a population of about eight million, between 1975 and 1979). Today, we're continuing similar policies, sending our enemies to secret prisons in Eastern Europe, sequestering presumed terrorists in Guantanamo, and the like. Nobody outside of Cambodia has ever been punished for the Khmer Rouge (nobody inside, either); it would be good were we to send those who commit the crime of standing beside criminals to The Hague.
But there is beauty in Phnom Penh, too, and I saw some of it at the Royal Palace. While, admittedly, the Palace is an imitation of the Thai King's residence, there's something to be said for all of Thai culture being an imitation of Khmer culture (much of Thai culture was imported from the ancient Khmer empire, when the old Thai states of Sukothai and Ayuthaya became ascendant over the Khmer empire and took and sacked Angkor, Siem Reap, and even Phnom Penh). At any rate, the king's throne house was done in something approaching good taste, and, altogether, the complex was only somewhat unseemly in its volume of gilt, precious statues, and overall number of buildings, in a terribly poor state.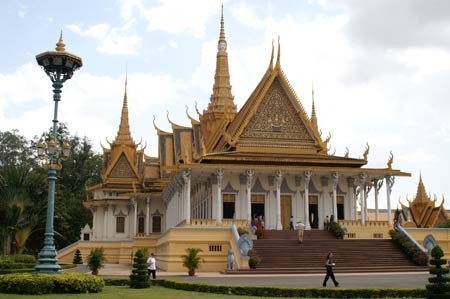 Then, to end the day, I walked up the street in front of my hotel and found a large dirt patch on which sat four or five Cambodian street restaurants. I sat down at one, ordered some food, and was swiftly offered a drink of rice wine by a gaggle of moto drivers who were having dinner. I joined them in a few bottles of the not-particularly-strong brew, and had a long and happy conversation with a bunch of people whose only English words were "friend," "peace," "wine," "drink," and "ok!" I think that vocabulary tells us a lot about Cambodians. That and the fact that their cars are a hotch-potch combination of Chinese, Thai, Vietnamese, and Japanese cars, with the drive on both the right and left hand sides, and no working instrumentation. That's good stuff. Tomorrow: bus to Siem Reap, the site of Angkor Wat.