Published Jul 3, 2006
I've been out of the country for more than two weeks now — in fact, I passed the halfway mark on my trip yesterday — and I was starting to worry that I would soon need a relaxing day off. That was before I took a boat ride down Hué's Perfume river and visited the tombs of the Nguyen emperors. Let me tell you, those emperors knew how to pick a spot for their mausoleums!
The day's organized tour started with a boat trip down the Perfume river (which, contrary to popular legend, has no particular odor, pleasant or otherwise). Little junks sat low in the river, heavily laden with riverbed sand and gravel that the families living on these junks dredged up with complex combinations of lever and pulley, then took upstream to sell to cement companies. Dense belts of trees — not jungle, but tropical forest — lined each bank, small houses and the occasional colonial villa peeking out from the foliage as our boat rounded a bend. Remarkably enough, both the junks and tourist dragon boats kept to one side and to marked channels, the first time I've seen anything approaching traffic control in Vietnam.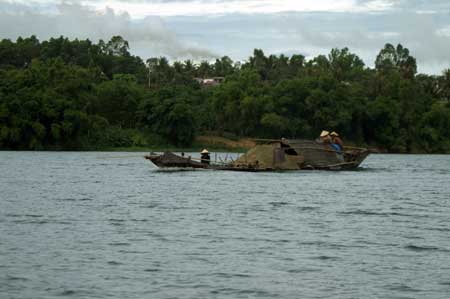 Our first stop was Thien Mu pagoda, at the top of a steep riverbank. The center of Buddhist resistance to the preposterously ineffective regime in South Vietnam during the Vietnam/American/Second Indochina War (depending on where you're from), the pagoda dates from the beginning of the 17th century. The pagoda was a wonderful first stop, with fresh air and a relaxing atmosphere that even the small town of Hué can't offer, and even the throngs of camera-toting Vietnamese tourists — they're even more photo-obsessed than the Japanese — couldn't disrupt.
Next came Tu Duc's Mausoleum. Emperor for nearly 40 years, Tu Duc apparently sought a life of quiet contemplation and poetry writing (and 104 wives), all of which he happily enjoyed in his lotus-filled mausoleum, where he lived for sixteen years before he died. The mausoleum itself was a bit disappointing, architecturally almost identical to yesterday's Citadel, but it was a good example of what the Nguyen emperors expected out of life (that is, an incredibly rich and decadent existence in a fairly poor country).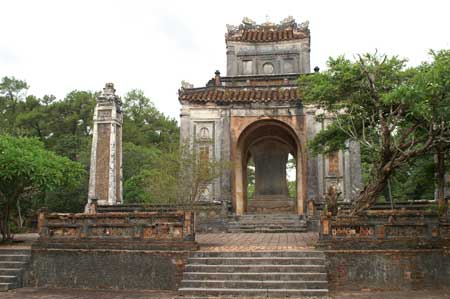 As we boated down the river, the sky opened up into a torrential — but thankfully windless — downpour. I was one of the few people on the boat who had brought a raincoat, so I was one of the few to scramble up a muddy hillside rising straight from the river Hon Chen Temple, an ancient temple of the Champa people that was expanded by the Nguyen Emperors as the Viets expanded into the area during the 19th century. Hon Chen contained a mirror that was reputed to show heaven as it was taken out of the temple to look across the Perfume river from the verdant col in which Hon Chen itself sat. Remarkably enough in a communist country, Hon Chen is still an operating temple and, despite the thunderstorm, I had to take off my shoes to go inside.
I took off my shoes again a short time later, as I returned to the boat. The poor, coatless masses had been cleared out so that the floor could be cleaned and mats laid down for our lunch; we ate foods typical of Hue, cooked onboard, and it wasn't bad.
The skies cleared for our next stop, Khai Dinh's mausoleum. I hopped on the back of a motorbike for a ten-minute ride down wet roads, past a few water buffalo, to find the mausoleum rising up the side of a verdant mountain, three levels high. Khai Dinh reigned in the 1920s, and this tomb shows the French influence in its architecture and internal decoration. In fact, the architecture, painted walls, and tilework are so baroque that the mausoleum took two years longer to build than Khai Dinh reigned. With all of the expensive imported Chinese and Japanese porcelain, gilt, and brocaded cothes, it's no surprise that Khai Dinh's son and successor, Bao Dai, was a disaster as emperor and was happily drummed out in the mid-1940s by the deeply uninterested Vietnamese people (I asked my tour guide how the Vietnamese felt when Bao Dai died in Paris in 1997, and he looked at me funny, as if the question itself were absurd).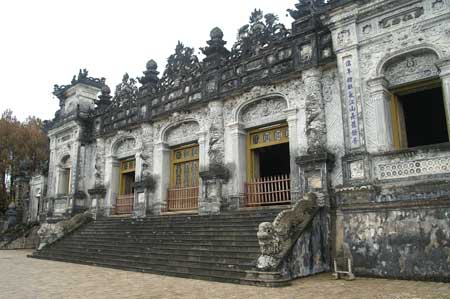 The last mausoleum was Minh Mang's. Only the second Nguyen emperor, Minh Mang ruled for 21 years and was apparently relatively effective, if authoritarian, isolationist, and anti-Catholic. Quite some distance up the Perfume River — only Nguyen dynasty founder Gia Long's mausoleum is even further away from Hue — Minh Mang's mausoleum radiates serenity. Coming through the gates we found a small, tasteful pagoda at the end of a simple stone path. To our left was the main entrance of the mausoleum, which was only opened once, when Minh Mang's body was taken through it. The pagoda hid the entrance to a large walled garden with rivers topped with floating lotus, planned plantings, and francipani and longan trees. With a shortage of tourists and remarkably unmotivated souvenir hawkers, Minh Mang's mausoleum was a practical resort getaway at the end of our river trip.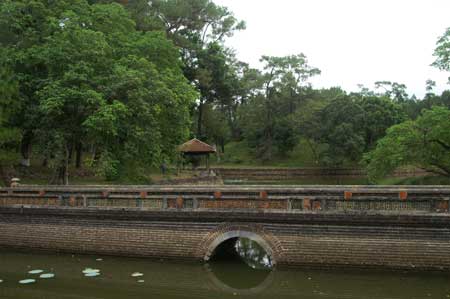 Then, two hours back downriver, we were back at Hué. I crossed into the Citadel to have dinner at the famous Lac Thien restaurant — which appears to be recommended in every single guidebook for the city and is thus flanked by the Lac Thieu and Luc Thien restaurants, both of which hope to capitalize on tourist confusion — and ate traditional Hué nem, or rice-paper spring rolls,, banh beo, little dishes of rice pudding topped with pork rinds, fried onions, and dried shrimp, and banh koai, egg and rice fried pancakes with meat and shrimp.
So that was day two in Hué. Now, some readers of this blog have doubted that I am in fact in Vietnam, since I do not appear in any photos. The real answer is that, except on guided trips, I don't trust any of the Vietnamese to not run off with my camera should I give it to them for a third-party snapshot (it's not that the Vietnamese are dishonest, just that the only ones who would actually come up to me and make contact almost certainly are; the rest are tremendously nice, with the elderly beaming back if I throw them a smile, the children excited to practice their "hello! how are you?" with any visiting Westerner, and both thrilled and surprised any time I manage to eat actual Vietnamese food). Anyway, the obligatory proof of either my presence in Vietnam or my skill with Photoshop: