Published Jul 15, 2006
I'm back in Thailand, whose traffic had scared me a bit, it's true, and I'm still surprised to see the oncoming traffic on my right, not my left, but the fact is that there are lights at the intersections here, and everyone's instrument cluster works (how does the entire population of Vietnam get along without a single working gas gauge or dipstick?) so I must be back in civilization! We'll see later when I take a moto ride with a friend who I've unexpectedly discovered is living in Chiang Mai.
But, rather than going on and on about Chiang Mai and my flight here — which was exceedingly comfortable and provided by the courteous and English-speaking staff of Bangkok Air — I'd better sum up the last two days of ruin-viewing at Siem Reap, seat of Cambodia's unforgettable Angkor Wat and related temples.
It's always hard to imagine what to say about ruins. Often, they're unbelievable, filled with fascination and unequalled art; just as often, they're dull. The ruins of the Angkor civilization were neither. On my second day visiting the ruins, I got to see the mysterious smiling faces of the Bayon, a temple projecting serene Buddhist acceptance; the Terrace of Elephants, shockingly lined by carvings of Elephants; the beautiful and massive Ta Keo temple, abandoned right before completion when it was, inauspiciously, hit by lightning; the incredible, early, brick Prasat Kravan; and the mysterious Preah Khan, twin to Ta Prohm, also overgrown by the jungle. Yeah, you keep all those names straight!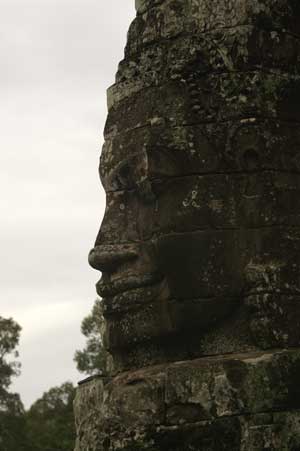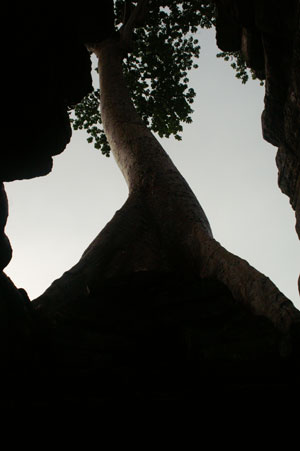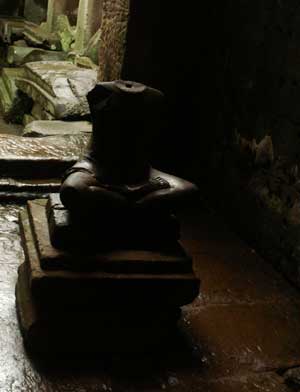 The rainy season showed us it was here, too: the afternoons of the second and third days brought rain, but on the second day it was a true downpour, flooding paths and especially the hallways and rooms of the temples — the Angkorian Khmer, you see, built their doors with foot-high jambs all around. Fortunately, the rain also washed away the innumerable children aggressively selling tchotchkes, t-shirts, cold drinks, and scarves.
On the third day, we ranged a bit further, seeing temples away from the major "small circuit" that comprises the essentially mandatory temples around Angkor Wat. Morning brought the deep and stunning bas-reliefs at Banteay Srei, the well-preserved but quiet burial ground of Banteay Samrei, the thousand-year-old stucco artwork at Preah Ko, and the sky-high Bakong, looking down over the whole ancient site. We even made it to far-away Lolei, in the midst of an ancient reservoir, now turned to rice paddies.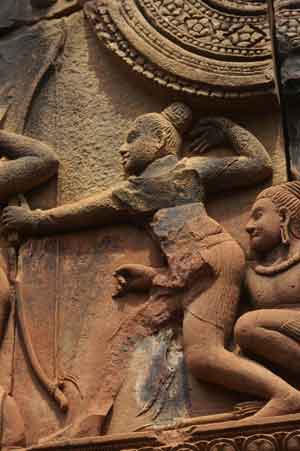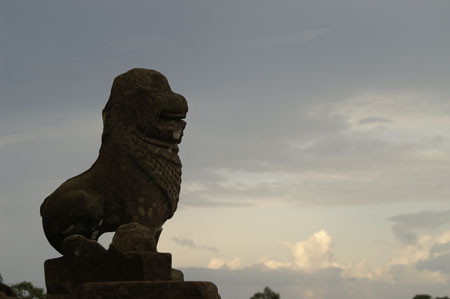 I finished it all up with a sour fish soup, both traditional and quite tasty. There was more to see at Chiang Mai — museums of culture and war, artwork, and even many temples, some ancient, some new, but that was just three days and I'm out of time. So, now, Chiang Mai, where it's already pleasantly cool. I think I'm in for a change!