Published Jul 17, 2006
Chiang Mai is a small city in Northern Thailand, but Thais seem to think of it like their second city. I came here because it's in the hills, and I thought I'd like a little cool weather to end my vacation. The weather has been quite reasonable for this area, although of course with the humidity of the jungle. Yesterday, I tromped about town — it only takes a half hour to walk from one end of the old walled city to the other — visitng as many of the city's old and beautiful wats, or Buddhist temples, as possible.
One of the first wats I saw was Wat Chiang Man, the first wat in Chiang Mai, a beautiful old campus that dates to the end of the 13th century.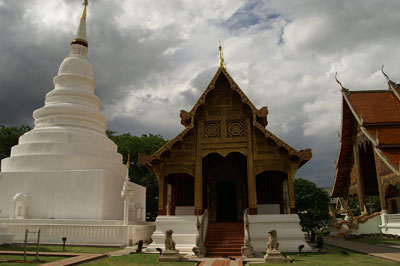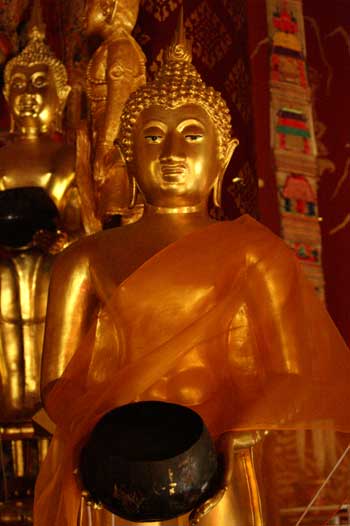 After that I swung by Wat Chedi Luang, also spelled Jedi Luang, which just makes me laugh, which features a massive 15th-century stupa that is falling down quite a bit, but is also being restored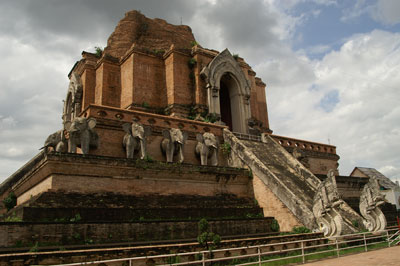 The day brought more wats — Wat Prasat, Wat Phan Tao, Wat Phra Singh, Wat Chetawan, Wat Mahawan, Wat Bupparam, and Wat Sisuphan. That's a lotta wat!
Now, wats are nice, but I do kind of wish that I'd gone to, say, Koh Samui, one of Thailand's famous and beautiful islands. The fact is that I'm quite tired out from my month tromping about, and a bit of time on the beach would be welcome. Guess it's a good thing I'm headed for Hawaii soon!
Anyway, today I visited a market, had the typical curried noodle of the Muslim minority in Northern Thailand, and next I'm headed for a real-live Thai cooking lesson. Updates as events warrant!
* "wat-a wat-a wat-a" — I didn't say it was a good joke!