Published Dec 7, 2005
Three years ago, I got a Sur La Table gift certificate for Christmas. I'd always meant to use it for cooking classes but I only managed to use it once and, as much fun as that one experience was, it hardly drained the gift card. Throughout the year since I've looked at the calendar and tried to make time for the classes I wanted to take, but I never seemed to be able to schedule them in. As it got closer to Christmas and I started thinking of food-related gifts for some of my friends, I started to feel guilty about my unspent gift card. After a few days of bouncing back and forth, I finally decided to blow the cards on kitchen stuff. After all, who doesn't need kitchen stuff?
So, off I went to Sur La Table, accompanied by my stalwart friend, Chef JoAnna, for technical advice on what I wanted and what to look for in products. With JoAnna's help, I blew my entire gift certificate in a veritable orgy of food porn. What did I get? Well, look here: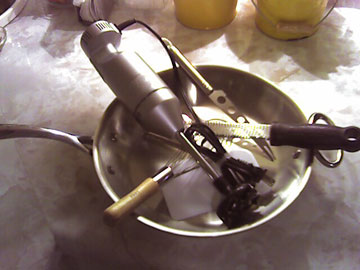 That's a:
Nice new pan, for cooking stuff that should have a nice crust and for making a fond to start pan sauces
Flat whisk to help in making said pan sauces, as well as other tasty stuff (like roux!)
Stick blender, for soups and sauces
Cheese knife (the odd-looking knife with the holes and two spikes on the end), since I use a fair amount of pretty good-quality goat's and sheep's cheese
Very fine microplane grater, especially for things like garlic and galanga
Scraper, for cleaning up and cutting soft things
It's a great haul, and I'm very excited. I wonder if I can use them all at the same time in one recipe?