Published Jul 2, 2006
I'll admit that my first impression of Hué was "hicksville" — after all, I arrived on Saturday and found the kids all hanging out at the gas station, leaning on their motos, while the sidewalk seems to peter out a few blocks past the main drag, in a few places; and, of course, there's no in-room internet in the mid-priced hotels, like there was in Hanoi.
But then I got out and saw the city today. With those sights and its incredible cuisine, Hué is a beautiful city that well deserves its role as the middle stop in a tour of Vietnam. For over 150 years, Hué was the imperial capital of the country, and, although it's a small, quiet town today, it's a small, quiet town today. That is to say, after Hanoi, it's nice to be able to cross the street without taking my life into my hands, while, with the beautiful, ancient Citadel, and classic Imperial cuisine, mean that the visitor gives up nothing in culture. And, hey, even though it's south of Hanoi, no higher in the mountains, and not that much less inland, the weather here seems to be 5-7° cooler, which is more than welcome, because my goodness it's hot and humid in this country!
Today I got up early and booked tomorrow's tour in Hué and my passage on to Saigon. I'm two days behind on this trip because I took my time making plans from Bangkok and from Hanoi, but I've learned my lesson. Unfortunately, I'm flying south, not taking the train as I'd planned, because there's just no non-overnight rail option and, what with the two days behind, I'm not blowing a day on a train.
Not that I'm in a rush to leave the city; it's lovely here. I walked across the Perfume River this morning and entered the Hue Citadel, built by the Nguyen emperors between 1805 and 1945. The Citadel, and the Imperial City it contains, are a mix of sumptuous palaces, gardens, and gates, and the ruins that built up during the five years of World War Two, ten years of fighting for independence, and, most of all, the 1968 Tet offensive, when Vietcong forces took and held Hué briefly, until a massive American assault reoccupied the city (as shown in the culminating scene of Full Metal Jacket). Some of the palaces have been levelled, others are bullet-pocked, and still more burnt down in a large fire during the '80s. Either way, the Citadel is incredible — and the juxtaposition of ruins and restored section is powerful.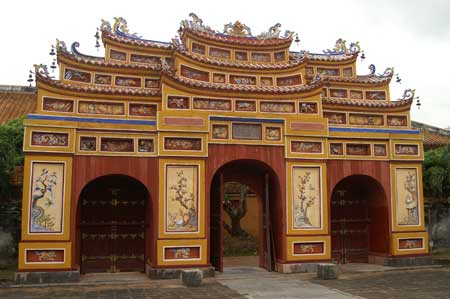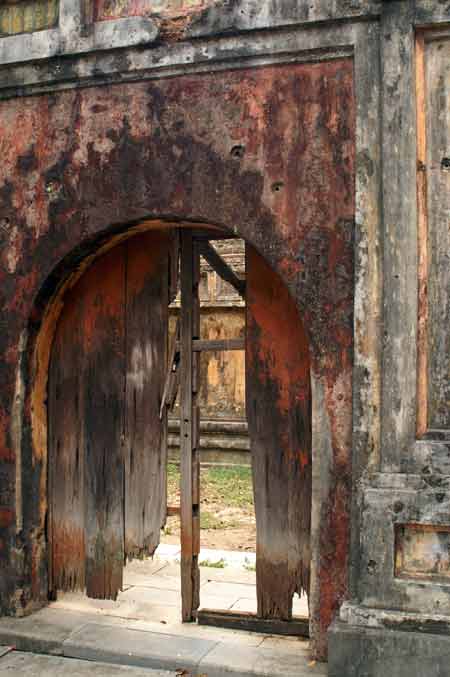 While I was there, I made sure to take an elephant ride. I'd had such an experience heavily recommended to me; while the ride itself was bumpy, and the elephant jockey kept whacking the poor beast on the side of his large head with a fairly large mallet to turn him (to say nothing of the spike the jockey carried, to drive into the elephant's brain if he stampeded), but the view was unique and the event interesting.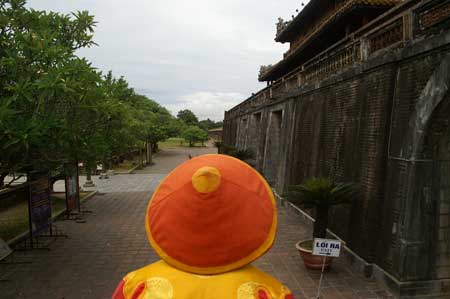 Then I walked around the old area inside the citadel walls, down a street famous for its little cafes. It wasn't a few minutes before I was drawn to an old woman serving steamed rice-flour dumplings stuffed with shrimp or banana; then, shortly after I left this little cafe, I was pulled into a little place serving a sweet-brothed beef noodle soup, heavily spiced with black pepper. I took a brief break to actually visit a museum, then I ended up at another soup joint, serving another sweet-brothed soup. When I was about to leave, five 20-something Vietnamese invited me to join them in some weak distilled rice beverage. We drank for an hour, attempting to communicate, until they sent me on what I think was some sort of practical joke. I got lost on the way home and found some museum park filled with old American tanks, children playing on them.
Finally, I actually broke a cardinal rule and ate dinner at the same place I ate dinner last night. But it was a quick place, and I got home in time to make reservations for Saigon/Ho Chi Minh city. And, hey, topping off the evening with some great coconut cookies really brought things home. Tomorrow: up early for the Perfume River.